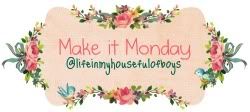 I'm linking w/ Kirsteen for Make it Monday! AND I'd love to see what you are making! If you can, please join us!
We had the privilege of attending a bridal shower on Saturday, so I made these kitchen cloths for the bride.
Just Valentine's/Spring colors since I wasn't certain of her kitchen theme.
Hope you all have a LOVEly week! Happy Valentine's Day!