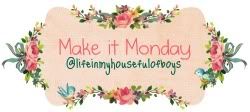 I'm linking up with Kirsteen for her Make it Monday! .....
For Christmas, I made Rachel this cute pair of slippers...When you make them, they are very, VERY big....before they are felted. After the felting, they are snug and warm. I wanted to include a picture of an already finished pair....but my Make it Monday project is in progress....
I have one slipper made for Sarah, and the other started. I won't felt them until they are both completed....but as it is, I can stick both of my feet in the one...and rather feel like a monopod from C.S. Lewis' "Voyage of the Dawn Treader"
Hopefully, next week, both will be completed and felted....