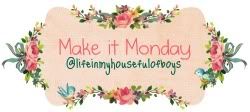 Well, it's not only been a while since posting a "Make it Monday" but it's also been a while since posting
ANYTHING! I am really hoping to get better.
For our Easter dinner I made these cute litte coin purses for the girls' placecards.
They make up very quickly....you can get a couple finished in an evening.
The boys just got a Snickers Bar for their place cards.
I got the clasps from JoAnn. The black clasps I bought in the store, and the gold ones were purchased online. The gold ones have rings to attach a strap. The black ones have a prettier inside...sorry I did not get a picture.